PLC four station rotary manipulator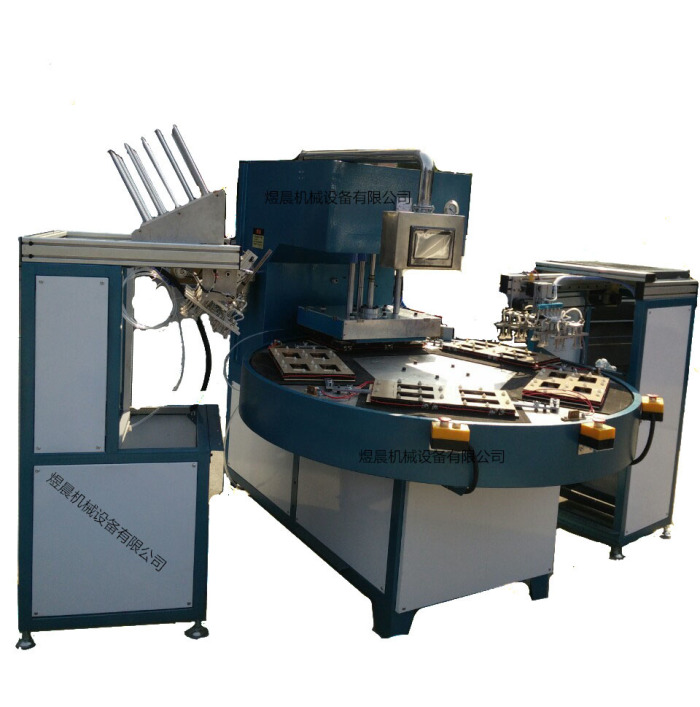 high-frequency heat sealing machine
1, positioning machine;
the turntable machine has three stations, with time set the conversion cycle, a single operator on the machine, the capacity can be four times to the traditional two station rotary table machine, two station pushing machine, three position manual rotary table machine. And because of the high precision protractor positioning, and template finishing processing, to ensure the welding quality in the traditional process to improve a times of stability.
2, production data management;
in order to reduce the transfer mode and debugging time, we adopt CNC PLC host write prescription program can be equipment operating parameters download and save, die change only in touch screen call data download can be the operation parameters of the disposable automatic setting, in the aspects of production management, production line adjustments, in single cast goods save the original link 2 / 3 of the time, and greatly reduce the debugging of waste. Because the operating parameters of the equipment can be automatically saved, it can be traced back to the source of the defective products and provide effective data for the analysis of the bad reasons.
3 , die temperature;
May die as a result of heating caused by equipment parameters need to reset, it will increase the defect rate and reduce the capacity production process. We designed for the installation of a high precision temperature signal converter, and the data added to the host system, can effectively guarantee the mold temperature. And equipped with a controllable current meter, when the product for any reason to achieve the welding effect in advance will automatically enter the next process, the real from the production site to improve the quality factor.
4, take out the product automation;
when products after completion of welding will be automatically transferred welding station, we in this part of the installation of the reclaiming manipulator device, no need manual manual products, mechanical hand will automatically welded products remove and put in goods seized and credits packaging line, every reclaimer can be 2-3 seconds of time savings for the operator and greatly improve production capacity and reduce operator fatigue degree .
The stability of 5, welding;
Welding of high frequency process may produce ignition firing mode phenomenon, so we adopt the oscillation system was developed as a field emission source, up market generic type oscillation system to improve the stability of 60%, reduce ignition probability is about 80%, or even eliminate the arcing phenomenon
6, anti spark suppressor;
to put an end to due to operational problems may spark firing mode, we use the latest development of high sensitive spark suppressor, produced in the flint 100000 seconds the high-frequency cutoff, it sometimes produces protection can't even find any traces the strike, we improved user greatly reduce the loss of the rework die. It can be said that the automation of the equipment is a weapon, and the improvement of the quality of the equipment will bring a qualitative leap for the production of the user.