Internet Anchor Promotes Yiwu Products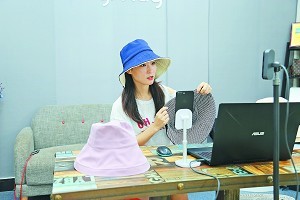 Fan Huicong is broadcasting live the latest sunhat.
Fan Huicong, born in 1987 in Jindong District, Jinhua, quit her job as a trainer and embarked on her entrepreneurship journey as a "Taobao Anchor" in 2016.
In the beginning, to avoid competing with well-known anchors, she made webcasts after midnight to introduce samples of different enterprises. Sometimes she even broadcasted from 6 p.m. to the next morning. Her hard work won her a group of followers. To enhance her competitiveness, Fan Huicong made a strategic decision to set up her own store with exclusive sources of products rather than simply broadcast for fluid enterprises.
Relying on the Yiwu market's rich sources of goods, Fan Huicong has created a live broadcast business that is booming. To date, Fan Huicong has had more than 270,000 fans and joined the ranks of other successful e-commerce anchors with a large number of fans in Yiwu. She mainly broadcasts daily necessities, clothes, and accessories. Her annual sales volume on the Taobao live broadcast platform has reached over 20 million RMB.
After three years, Fan Huicong has developed her team into a more professional one with more than 10 people playing clear roles in the live broadcasts, business operations, customer service, and after-sale service.
"It is Yiwu's high-quality goods that enable me to bring good products to my fans and thus promote my business," Fan Huicong said. "Fans'fondness for an e-commerce anchor stems from their trust in him/her. Since businessmen in Yiwu have primary sources of goods which are cost-effective, my fans are naturally willing to buy them."
The products in Yiwu's market—including daily necessities, accessories, shoes, hats, and toys—have advantages like broad ranges, latest fashion design, and a high turnover rate, which well meet the demands of the live broadcast audience. It is those good products that help Fan Huicong keep her fans attached and active. In turn, anchors like Fan Huicong help businessmen in Yiwu enrich their sales channels and alleviate problems such as high commodity inventory and slow capital turnover.
Mr. Zong, a businessman who works with with Fan Huicong, expressed his favor for this sales channel. In his view, through the live broadcast, businessmen can get first-hand information of the market and exchange information with customers, which helps them know customers' needs and thus improves the quality of their products. In this way, the live broadcast takes the traditional offline market into a virtuous cycle of promotion, sale, interaction, and optimization.
In June of this year, Yiwu signed a strategic cooperation agreement with Alibaba Group to co-build the Electronic World Trade Platform, which encouraged Fan Huicong and her team. In the future, the e-commerce live broadcast field will be a big-data-powered and consumer-centric ecosystem, and Fan Huicong will continue to develop her live broadcast business and promote Yiwu goods to her fans across the country.
(By Huang Yujie, translated by Shen Yingying, edited by Mariam Ayad)
Source text:
szb.ywnews.cn/html/2019-07/30/content_2_1.htm