Name: love bicycle plant.
Specification: 9.5 * 9.5 * 9.5 CM
Packing number: 80 pieces.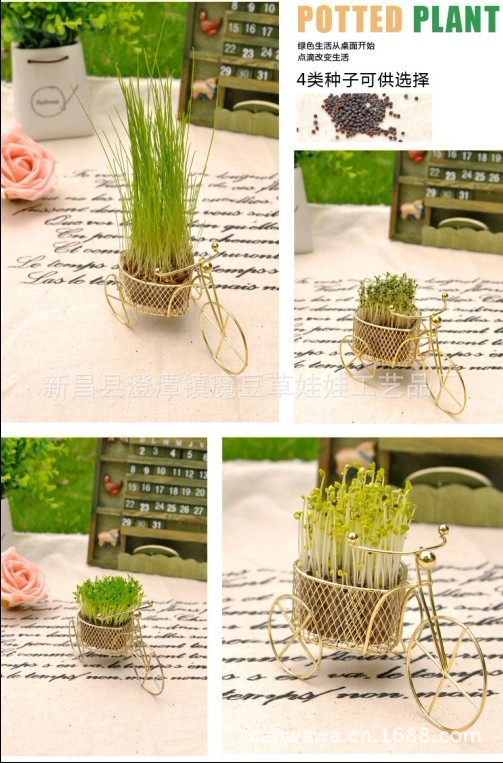 The green plant can naturally absorb the toxic odor and odor in the air.
Is it necessary to have some fresh air to work in a smoky atmosphere?
The indoor culture mini planting, green at the same time purify, love oneself, love the family, love the earth!
Recommended! Environmental protection first choice, greening, purify super high quality!
In constant speed up the pace of life, an office worker in depressing office, the mood is always very depressed, can't let oneself of mood, so many appeared on the market to meet the office family of products, and got excellent grades in the market.
I believe many people have pets, but there are not many friends who have experience in growing potted plants. Although plants potted plant process is relatively complicated, and plants also don't like the pet, active, but the friends who have planting experience can understand, that kind of careful care, irrigation slowly, looking forward to it blossom feeling is absolutely pet can't bring you satisfaction!
Unfortunately, it is not easy to plant common plants, especially popular and attractive varieties, and it is not easy to take care of, and the selection of containers, soil and seeds. Wait, it is a kung fu, also killed a lot of friends who want to step into the colorful and colorful horticultural world! In fact, it's not that hard, any planting potted loy fashion gardening specially designed the latest home gardening breeding cultivation, in addition to using plastic | | | iron making cardboard container ceramic containers, more will develop soil and medium (add to prevent decay formula), the selected seeds.. All the necessary supplies will be ready for you, so that you can easily and happily cultivate your own perfect potted plants.