"There are products for dogs and cats, birds, amphibians and even aquarium, the list goes on and on. Goods here include residential, constrained supplies category, daily training, play toys, cleaning, food and other products." The manager of this district, Yang Xiong said.
Compared with other lines, pet products used to have very small part in Yiwu market, only about 100 shops/suppliers, which are randomly located on the second floor of district 2, district 4 and district 5.However, the situation changed since July 8th last year, the Pet Products became the only topic on the fourth floor of district 5 in Yiwu Market.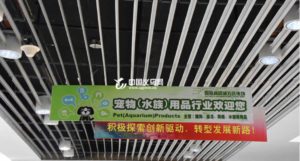 Shanghai Sunmi Pet Products Co., Ltd. won 48 shopfronts this time in the International Trade City. "Our business products imported selectively from companies South Korea, Japan, the United States and other countries with great international reputation, for better safety. "According to Zheng Renshu, the owner of the shop, who is fairly confident to run the bussiness well in Yiwu. "This is a mutual benefit relationship," she said, "our business will drives more visitors toward nearby businesses, and vice versa.".After one year, there are more and more pet product suppliers settled in this area, plentiful kinds of pet supplies here and it hoped to be the most focused and one-step purchasing stop.