Yiwu Delegates Visit Mongolia & Turkey
From August 19 to 25, Duo Jia, member of the Standing Committee of the Yiwu Municipal Committee and deputy mayor of Yiwu, led a delegation to visit Mongolia and Turkey, in part to attend the Boao Forum for Asia (BFA), a conference held in Ulaanbaatar.
The 2019 BFA, which was held on August 19 and 20, was co-organized by the secretary of the BFA and the Ministry of Foreign Affairs of Mongolia. More than 300 representatives and reporters from China, Mongolia, and ten other countries attended the forum, including Prime Minister Ukhnaagiin Khürelsükh of Mongolia; Ban Ki-moon, chairman of the BFA and former secretary-general of the United Nations; Damdin Tsogtbaatar, foreign minister of Mongolia; and Li Baodong, secretary-general of the BFA.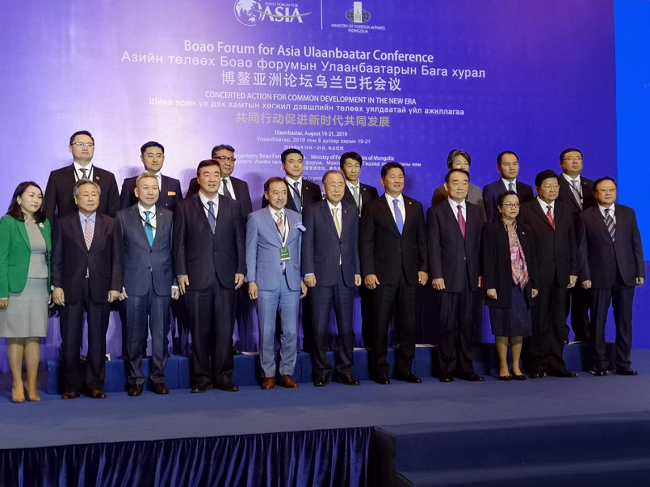 During the visit to Turkey, Duo signed a memorandum of understanding with Hayrettin Gungor, mayor of Kahramanmaraş. Kahramanmaras was an important stop along the ancient Silk Road, and Yiwu is the beginning station of the new Silk Road; the two cities have many similarities in various respects. Duo invited Gungor to visit Yiwu and to further exchanges and cooperation between two cities.
The delegation also visited a MADO factory, a famous Turkish ice cream company, to learn about the production process of their ice cream. In the meeting with Mehmet Kanbur, president of MADO, the delegation expressed their intent to invest and to promote cooperation between MADO and Yiwu.
(Translated by Li Ziyi, edited by Kendra Fiddler)
Source text:
swb.jinhua.gov.cn/14/dwkf_1355/201909/t20190904_4180478_1.html