World Yiwunese Conference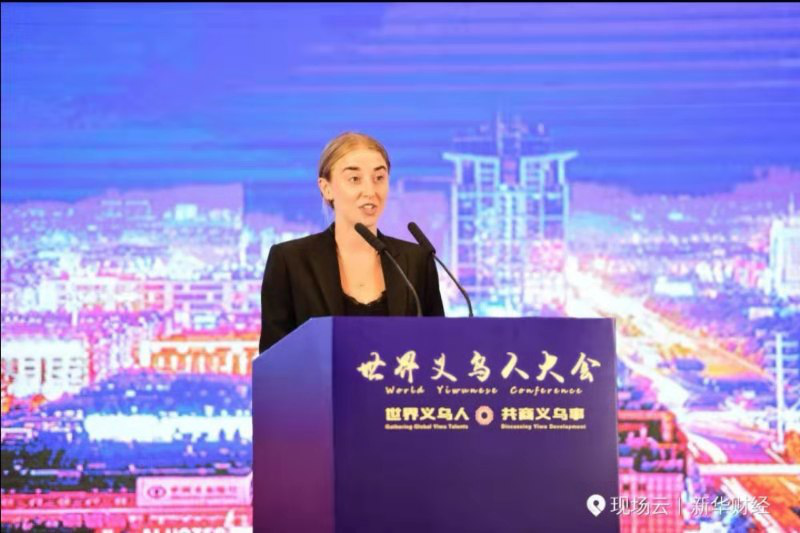 On the morning of September 13, the World Yiwunese Conference was held at Your World Conference Center in Yiwu. Party and government leaders, experts, as well as expat Chinese entrepreneurs from 83 countries and regions, international students from more than 40 countries and regions, international youth entrepreneurs, representatives of chambers of commerce around the world, representatives of outstanding enterprises in Yiwu, and more—a total of around 800 people from home and abroad—attended the conference to share their stories in Yiwu. Nyla, an Italian youth entrepreneur graduate of Yiwu Industrial and Commercial College (YICC), gave a speech at the conference. She shared her about life as a student and entrepreneurial career in Yiwu.
Nyla came to Yiwu to study Chinese in September 2016. After graduation, she established the Fordino Import and Export Company in Yiwu. At the beginning of her business, she procured goods from Yiwu and sold them to Europe. This year, she obtained official authorization to import German and Italian goods into Yiwu, which she is now selling all over China. Nyla said, "I chose to open a company in Yiwu because it is convenient to do business here. Yiwu has the largest small commodities market in the world, which makes it easy for me to procure goods and bring consumers to Yiwu. As a commercial city with good policies, a good business environment, and inexpensive goods, Yiwu attracts increasing numbers of people to procure goods here. I have been away from my hometown for only three years, but I already consider Yiwu as my second hometown." Nyla's speech touched everyone and elicited a round of applause.
Seven people from a pool of Yiwu entrepreneurs doing business overseas, private entrepreneurs, high-level talents of Yiwu, and foreign entrepreneurs working in Yiwu were invited to give a speech at the World Yiwunese Conference, and Nyla was one of them.
In recent years, using the regional advantages of Yiwu and chasing the goal of cultivating international talents who serve the Belt and Road, YICC has enlarged the school's scale and improved the quality of teaching, the work system, and operational mechanism. By carrying out extracurricular activities, promoting campus culture, organizing volunteer service, and celebrating traditional festivals, YICC has set up many opportunities for international students to join in cultural activities, and is continually improving its teaching of Chinese language.
YICC has trained a large number of international students from all over the world who know Chinese language and culture well. They play an important role in China's diplomacy with other countries, the establishment of the Belt and Road and Yiwu International Trade Reform Experimental Zone, and the development of Yiwu, the world-renowned "small commodities city."
(By Wang Huilian, translated by Wei Han, edited by Kendra Fiddler)