CRE Strives to Run 1000 Trains in 2020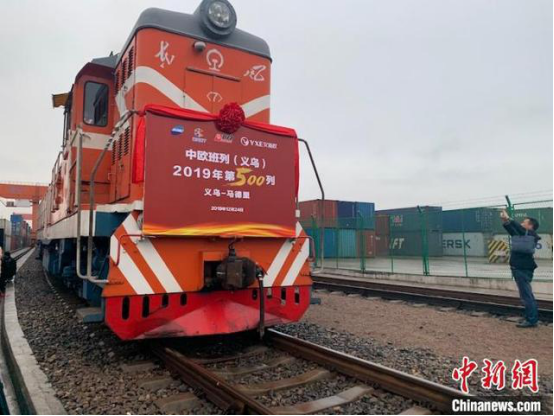 In 2019, 528 CRE trains traveled. Photo by Xi Jinyan
CRE Strives to Run 1000 Trains in 2020
Riding across the Eurasian region, the China Railway Express (CRE) trains have set up a new trade channel, which has effectively promoted the interconnection of countries and regions along the railway. On January 12, Yuan Jiajun, Zhejiang governor, delivered the government work report at the 3rd Session of the 13th People's Congress of Zhejiang Province, announcing that in 2020, Zhejiang will strive to run 1000 CRE trains.
Being a major intersection of the Belt and Road, Zhejiang has actively participated in and served the implementation of the BRI since 2013, accelerating the establishment of more open platforms, including the growing impact of the CRE.
On November 18, 2014, the first Yiwu-Madrid CRE train departed. The train was loaded with small commodities from Yiwu, exited through Alashankou Port, passed through Kazakhstan, Russia, Belarus, Poland, Germany, and France, before reaching Madrid in 21 days. Since then, the number of CRE trains traveling to and from Europe has continued to increase, resulting in the opening of 11 routes.
The Zhejiang Provincial Government Work Report states that in 2019, Zhejiang's exports to countries along the Belt and Road are expected to increase by 11%.
In the new year, Zhejiang will focus on the development of the BRI, make further efforts to expand its influence to the west, strive to run 1000 CRE trains, and develop infrastructures towards the east coast—namely the Yiwu-Ningbo-Zhoushan Corridor—deepening the comprehensive network of transportation and communication, known as Four-Port network and including road and railways, airways, sea routes, and Internet.
The Provincial Government Work Report also states that the provincial government will support Hangzhou and Ningbo in the creation of a national platform for the development of the BRI.
In addition, the work report also stresses the importance of promoting the growth of Yiwu as a comprehensive reform pilot zone for international trade and strengthening the joint development of cross-border e-commerce comprehensive pilot zones in Hangzhou, Ningbo, Wenzhou, Shaoxing, and Yiwu.
Finally, another crucial point is mentioned: the establishment of the eWTP experimental area and creation of the core area of the Digital Silk Road.
(By Shao Yanfei—Zhejiang China News, translated by Marco Lovisetto, edited by Mariam Ayad)
Source text:
zj.chinanews.com/jzkzj/2020-01-13/detail-ifzspxvu3522577.shtml