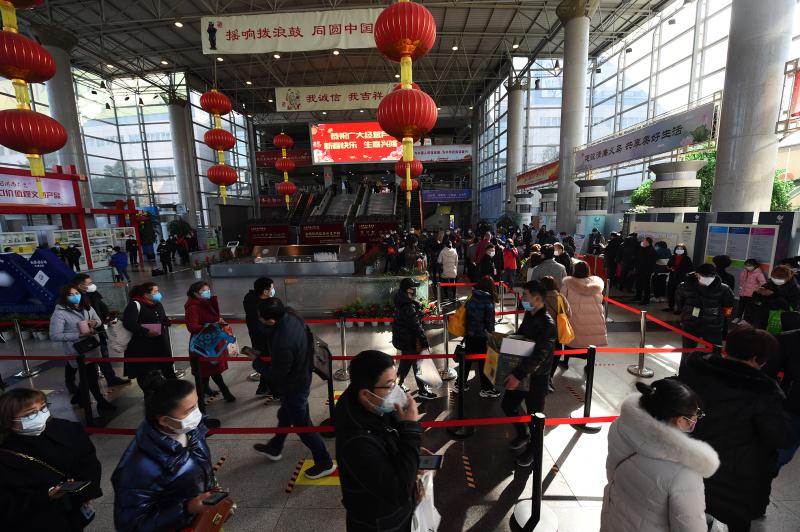 Merchants and buyers were queuing to enter the Yiwu International Trade Market on Feb 18. About 10,000 trading booths open to global purchasers in the market, which open for business at 9:00 am and close at 4:00 pm. [Photo provided to chinadaily.com.cn]
HANGZHOU -- After a short hiatus in business due to the COVID-19 outbreak, the Yiwu International Trade Market, the world's leading small commodities market, has sprung back to life as the epidemic has been subdued in China.
Located in the eastern Chinese province of Zhejiang, the city of Yiwu, home to over 2 million medium-, small- and micro-sized firms, sells commodities to about 200 countries and regions every year and is therefore dubbed the "World's Supermarket."
The bustling trade market fell into temporary closure and stagnation due to the outbreak. Now about 93 percent of stalls in the market have reopened to customers thanks to the effective epidemic prevention measures.
Purchasers and merchants with authorized QR codes and valid identity cards can enter the market after having their body temperature checked and wearing masks.
Fifty-five-year-old Yu Lingli is a native of Yiwu and has a small doll shop in the trade market. "I have run this shop for 25 years. My customers are from all around the world."
As a grid-based community worker, she is also responsible for testing the body temperatures of over 20 neighboring shop owners.
"My Italian customer sent me a message to postpone an order. I totally understand it," Yu said while pointing at a Chinese doll on the shelf. "My Japanese customers like it very much. The orders for the doll have been scheduled for June."
Small- and micro-sized firms and individual businesses are the main sectors in the country to absorb migrant workers. However, they are also among the groups worst affected by the coronavirus epidemic.
During the back-to-work season, a lot of migrant workers have been unable to return to work, and thus, many enterprises in Yiwu are short of employees.
To solve the problem, Yiwu has sent 44 working groups to China's major labor exporter provinces such as Henan, Anhui, Jiangxi and Yunnan to recruit new employees. The city has even arranged special buses and trains to ferry employees back to Yiwu as soon as possible.
"Since March 14, we have also launched regular shuttle buses to pick up workers from medium- and low-risk areas in epidemic-stricken Hubei province," said Lin Yi, secretary of the Yiwu municipal party committee.
Twenty-one-year-old Guo Yan, a furniture salesperson in the trade market, is one of the beneficiaries of the recruitment moves. She returned to Yiwu in early March from her hometown in the hinterland of Northwest China's Ningxia Hui autonomous region.
"The epidemic will finally come to an end. I'm happy to return to my work," said Guo.
Statistics from the Yiwu foreign affairs office show that about 60 percent of the 15,000 resident foreign businessmen are Arab.
In the past 10 days, more than 1,000 Arabic translators have returned to Yiwu from as far as more than 2,000 km away with help from the city government.
The Yiwu municipal government has spent more than 1 billion yuan (about $140 million) handling the epidemic-related challenges local enterprises face during this hard period.
"Although the epidemic has caused some troubles, the government's supporting policies give us a lot of confidence," said Wang Wenjun, chairman of the board of Sumsoar Group. "In the past two months, my company has received about 2 million yuan in tax reductions."
"As long as we work hard, we will make money. Living a normal life unaffected by the epidemic is our greatest joy," said the shop owner Yu.