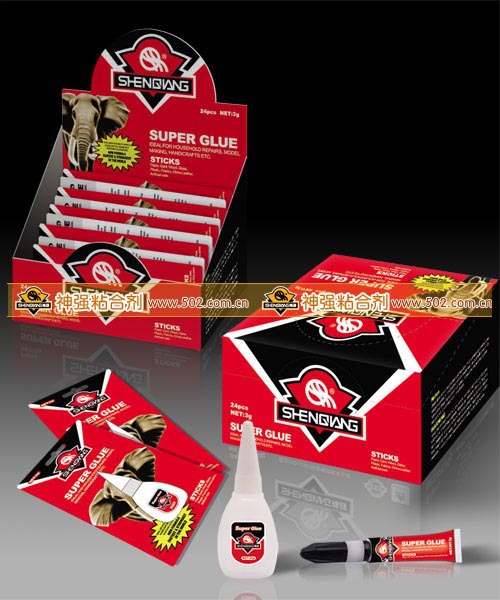 Product information:
Name:shenqiang super glue. Weight: 5G/bottle.
Item code: SQ-41QE4. Size: 1bottle/card. One box: 288pcs.
Product features:
1.application: suitable for man-made eyelash,papper
2. appearance: colorless transparent liquid.
3. viscosity (CP at 25 degrees Celsius): 80-100.
4. specific gravity: (25/4) 1.06 per cent.
5. tensile strength (kgf/cm) at least 90.
6. bonding time (seconds): less than 15 seconds.
This glue is clear liquid,doing no harm to our skin.when use this glue,it is suggested to used the glue according to your necessity. Use warm water to wash it,in case you pour it into eyes.
Company introduction
introduction on YIwu Shenqiang Super Glue Ltd.co
Shenqiang Adhesive Co.,Ltd. specializes in producing and marketing powerful adhesives under the trademark "shenqiang", "IVIES" and "Rubber plant" . In 2001, the company passed ISO9002 attestation, in 2005, got the certificate of 14001 environmental management system. Through unremitting efforts, the company has built the fine product image, the sales network not only spread all over the country, but also in the Europe, USA etc. The company adheres to the managing concept of "super quality, sincere service", we shall constantly offer you with better product and more satisfactory service.



As for quality
The glue we produce is liquid transparent glue,of high quality and reliable credit.
As for transportation fee
In order to decrease the argument on transportation , all of the delivery is paid the customers.
As for delivery
We promise to deliver the goods as soon as possible based on customers requirement, several cartons we shall deliver the goods in two days.
As for after-sale service
The products we offer basically won't have any quality problem, please inform us once customer find we mistakenly deliver the goods. We will try our best to offer customers good service.