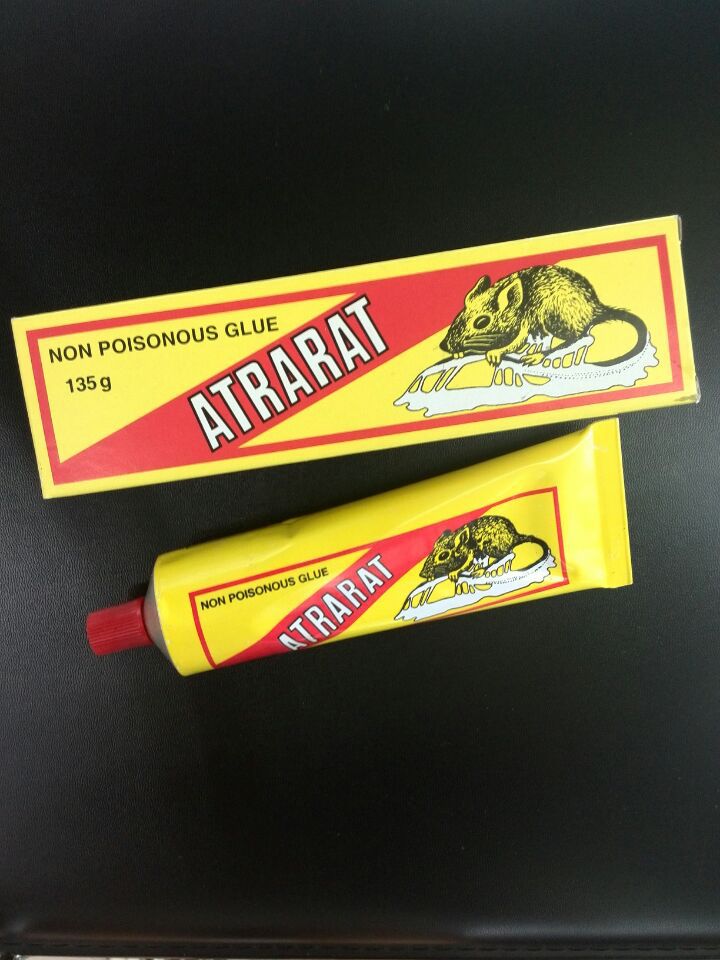 Product description
Name: shenqiang mouse glue. Weight: 135 grams.
Ingredients: imported glue, poly butadiene, styrene compounds.
Shelf life: three years, if exposed to the air, 3 months.
Product features
1. non-toxic tasteless, safety and environmental protection, high temperature flow, low temperature gel,
2. adhesive is strong, resists the rats struggled and pulled
3. high tack, viscosity good adhesion duration can be up to 3 months
4. functions: sticky mouse birds and other small animals
Range: homes, hospitals, warehouses, canteens, and other occasions.
Using method
1. spread the glue on cardboard, plywood or wooden boards.
2. put some sugar, peanuts, meat, fruit on the board, place them on somewhere haunted by frequent rats.
3. If the rat board gets moistered by water, just dry up the water,and it does not affect the fun.
Attention:
1. If the glue sticks on hands, clothes, and other items on the floor, use diesel-powered scrubbing, then uses the detergent to wash.
2. moisture or dust places, should first be cleaned (rat, water, oil, dust and other sticky weakened, sometimes mice leave footprints and break).
3. if it catches mice needs in timely manner to dispose the mouse, it can be recycled after cleaning.

Company introduction
introduction on YIwu Shenqiang Super Glue Ltd.co
Shenqiang Adhesive Co.,Ltd. specializes in producing and marketing powerful adhesives under the trademark "shenqiang", "IVIES" and "Rubber plant" . In 2001, the company passed ISO9002 attestation, in 2005, got the certificate of 14001 environmental management system. Through unremitting efforts, the company has built the fine product image, the sales network not only spread all over the country, but also in the Europe, USA etc. The company adheres to the managing concept of "super quality, sincere service", we shall constantly offer you with better product and more satisfactory service.



As for quality
The glue we produce is liquid transparent glue,of high quality and reliable credit.
As for transportation fee
In order to decrease the argument on transportation , all of the delivery is paid the customers.
As for delivery
We promise to deliver the goods as soon as possible based on customers requirement, several cartons we shall deliver the goods in two days.
As for after-sale service
The products we offer basically won't have any quality problem, please inform us once customer find we mistakenly deliver the goods. We will try our best to offer customers good service.