XSign in by: Email Mobile
E-mail:

Mobile:

Password:

Sign in
CD1 type electric car wire rope electric car
中文版
Updated: 2018-11-14 13:01
CD1 electric hoisting to wire rope electric hoisting. CD1 electric hoisting features compact structure, light weight, small size, CD1 type electric car can be installed in the overhanging i-beam, and can also be equipped with electric or manual single beam, double beam, Cantilever, gantry and other migrants.
EXW Price:

| | | |
| --- | --- | --- |
| Above 1pcs | | ¥ 2,175.00 /pc |

Price above includes all cost to deliver in Yiwu only
Send Inquiry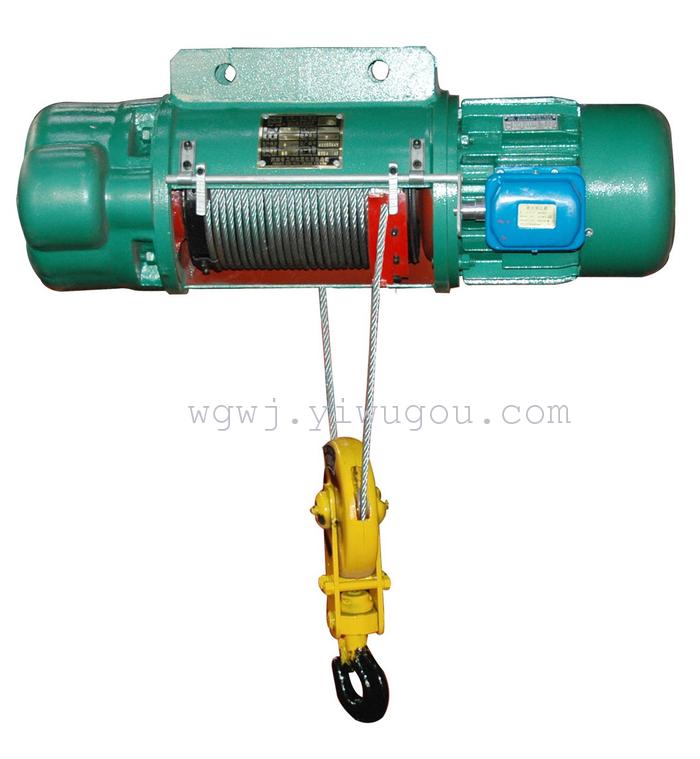 parameter
Standard lifting height M

Minimum radius m of circular orbit

Note: the hoisting height of wire rope electric hoist can be increased to: 9m, 12m, 18m, 24m and 30m according to customer needs
Lifting weight of CD1 type electric hoist: 0.5t, 1T, 2T, 3T, 5T, 10T and 20T
Lifting height of CD1 type electric hoist: 6m, 9m, 12m, 18m, 24m and 30m
Working level of CD1 electric hoist: M3
Protective level of CD1 type electric hoist: IP44 IP54
Lifting speed of type CD1 electric hoist: 8m/min[10t is 7m/min]
CD1 electric hoist product description: CD1 electric hoist is a small and light lifting equipment.
The main structure of CD1 type electric hoist is: reducer, operating mechanism, drum device, hook device, coupling, flexible cable current introduction device, limit device. The motor adopts conical rotor motor, which integrates power and braking power.
CD1 type electric hoist installation and use: hoist single beam, bridge crane, portal crane, hanging crane. Slightly modified, can also be used as winch. Therefore, it is a necessary machine to improve labor efficiency and working conditions.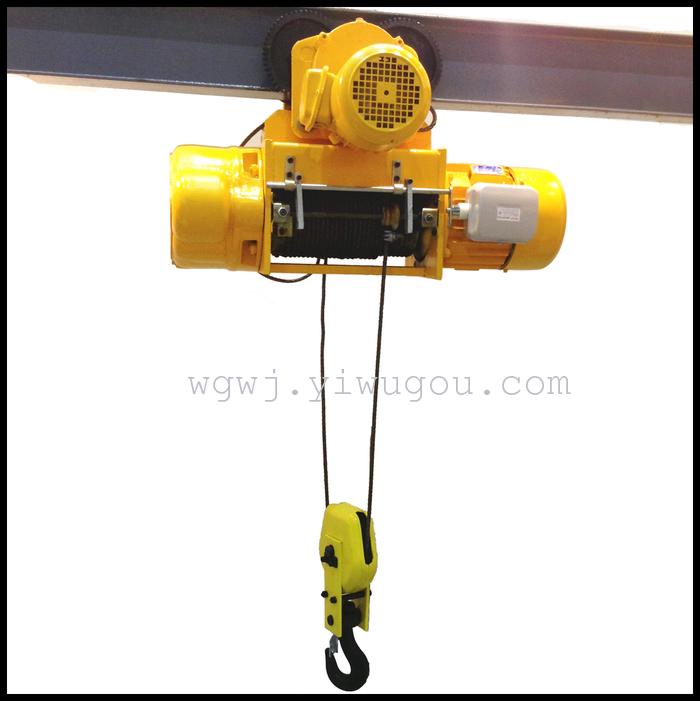 Product features
Features of CD1 electric hoist: light weight, small volume, compact structure, variety and specification, stable operation, simple operation and convenient use. They can be used on straight, curved and circular overhead rails on the same plane, as well as on electric single beam, manual single beam, bridge type, suspension, cantilever, gantry and other cranes with i-steel track. CD1 electric hoist is widely used in factories, warehouses, docks, power stations, logging yards and other occasions. It is the most ideal lifting equipment for lifting and transporting articles.
Scope of application and working conditions
Model CD1 electric hoist is suitable for the temperature of 20 ℃ to 40 ℃, relative humidity of 85% or less, at an altitude of 1000 m below, no fire and explosion danger and corrosive medium environment, prohibit dispatching molten metal, toxic, flammable, explosive. The applicable power supply is three-phase ac, 50Hz and 380v. The type of work of this product is intermediate, and the rated lifting must be reduced by 20% for each increase of working level of the mechanism in use.
©2021 Yiwugo.com All rights reserved.
Finding high quality products in Yiwu China, Yiwu China Commodity Market (Yiwu wholesale market), the World's Largest Commodities Trading Center Online.