The way to generate a strong interest, but also to cultivate the children's hands-on ability, coordination ability, small movements with the ability to color
The ability to recognize and three-dimensional thinking mode. PERLER goes beyond the category of pure art teaching AIDS and can also be developed into
The product of \"bean craft\".
1. Develop hands-on skills
Unlike other products that are simply stitchedtogether on a template, PERLER requires calculations while designing the desired pattern
The number of blocks of the template, the arrangement of beans, the cultivation of the concept of coordinates, symmetry, and so on, and can be a good practice ability.
Graphic education in primary schools is not only important, but also a difficult subject to learn. Using circles, squares, hexagons, hearts,
Star style template to create works, can help to understand the basic concept of graphics and graphics size, width, etc.
New methods of art education
PERLER broke away from the limitations of art education to date (crayons, paints, etc.) and took advantage of PERLER's interest in creating works
And the sense of achievement, can stimulate children's desire to learn.
Creative production activities
PERLER is from graphic art to a variety of three-dimensional art can imagine the infinite activities of the project. When PERLER is in use, it should be used at the same time
Pay attention to the point, line, surface, three-dimensional, in order to create a variety of creative works. Children's infinite imagination can be passed
PERLER to perform, to create creative work.
Color display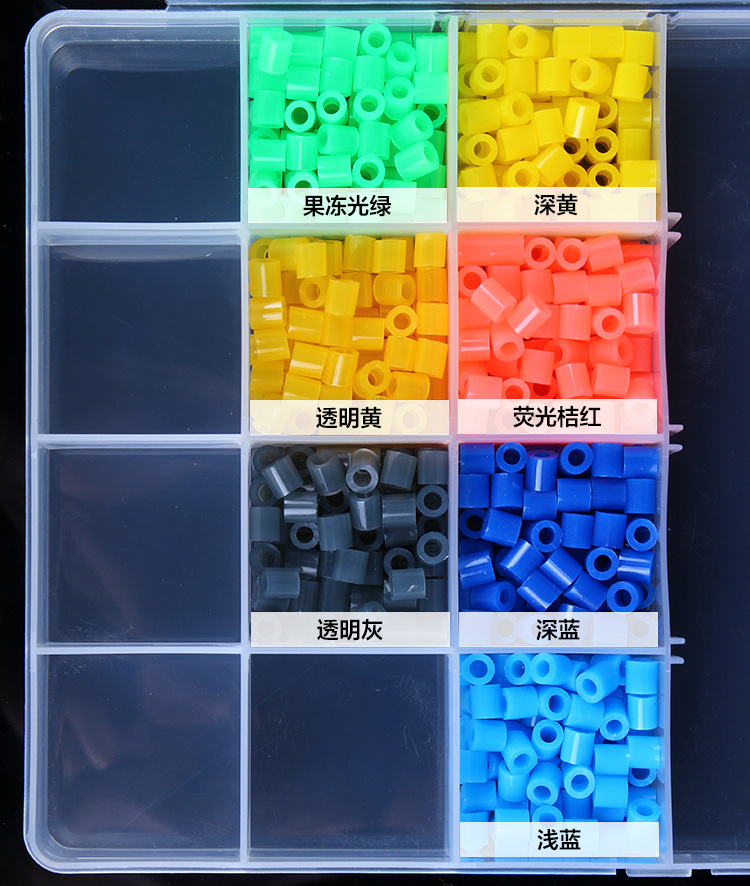 Spell bean production
The production of spell spell beans is generally divided into two kinds of plane and three-dimensional, usually plane used to make key rings, mobile phone hanging ornaments
Bag hanging decoration and other three-dimensional can be made into a pen container, tissue box, picture frame and other desktop decoration, the operation method is as follows:
Before starting, the necessary materials: doudou, template (there are normal square style and cartoon style), help ironing paper and iron;
Graphic works
There are only three steps: step 1: place the beans in the template
The second step: cover to help ironing paper, with an iron set to medium to partial low temperature, the top back and forth ironing, ironing 1 minute or so.
Iron over side to continue to iron the other side, this can make beans more firm, not easily broken.
Step 3: press it with a heavy weight to make it even more flat. After a few minutes of cooling, the work is finished.
Three-dimensional work
The first method is to stack several layers on top of each other, and then through the middle of the glass stick into the fixed, fixed a few points.
The second method is to make beans into several planes, and then through the concave and convex method to make a tissue box or pen container.
The third method is to tie it with a transparent fishing line (this method is not particularly recommended).