Lemon 150g hair removal wax water soluble wax MSDS


| | |
| --- | --- |
| | 150g/pc |
| Pcs/ Ctn | 144 |
| Carton size | 49.5x48x17cm |
| 20 feet container | 92736 pcs |
| 40 feet container | 188784 pcs |
Fragrance:
honey, lemon, lavender, tea tree, aloe vera, azulene, orange, strawberry, rose, peach, pink, milk, chocolate, banana, apple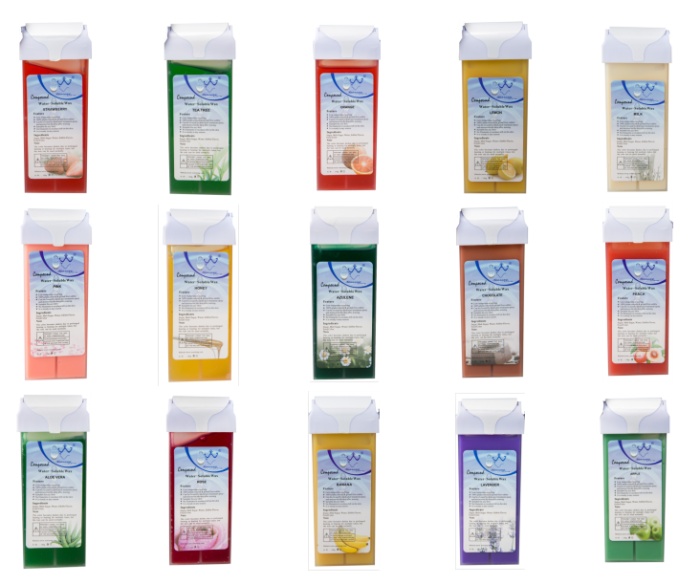 Directions for use:
1) Remove the sealing paper: hold one side of the sealing paper and pull it up, then insert the cartridge wax into a cartridge wax heater, cover the lid of the heater and begin to heat for about 15 to 20 minutes. The wax can be used when it is totally melted and flow fluently.
2) Before hair removal, clean the skin with Pre-wax Treatment Spray, and analyze the direction of hair growth. Make sure the skin is absolutely dry and clean, otherwise it will affect the hair removal.
3) Test on a small area before operation, make sure the temperature is suitable for wax treatment. Hold the cartridge wax heater at a 45-degree angle, roll the wax on the area to be treated along the direction of hair growth.
4) Then use the paper strips on the treatment area and clap to make them clingy.
5) Tighten the skin, hold one side of the paper strip, then tear off the paper strip reverse the direction of hair growth.
6) After hair removal, use the After-wax Treatment Spray (dedicated to water-soluble wax) to clean all residual wax and moisturize the skin.