Baby name Click on the coconut tree turtle refrigerator paste, a 3 mixed bag, the product can be added customer LOGO.
Resin crafts economy, good durability and easy to be easy to wash and so on, very humanized.
[baby function]Can be decorated in refrigerator, wall, bookcase, clothing cabinet.
The advantages of babyIt has the characteristics of durability, environmental protection and no harm. , 19, and elegant, simple sense, atmospheric modelling beautiful, vivid, expressive force is strong, has the strong sense of reality, appreciation and collection is a room that occupy the home is very good place adorn article and send a good gift for family and friends.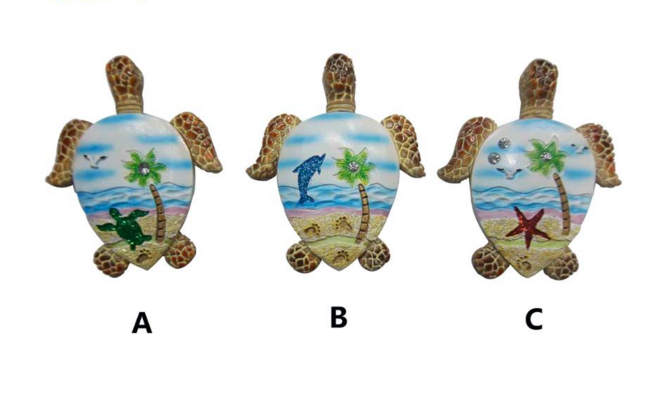 Warm prompt: because of shooting light, Angle, display and other different problems,
There may be a little color difference, all in kind.

All the goods in this shop are carefully selected by the shopkeepers before they are put on the shelves. There is a high cost performance. Although the price is not necessarily the lowest, you can guarantee that the goods will be worth it.

Order process

Provide design draft, we confirm the documents, the customer pay the proofing fee, we arrange proofing and send the samples, the customer to confirm sample, sign a contract, big goods production customers pay a 30% deposit, we arrange production big goods, finished goods production (photo or customer personally inspection), customers pay the balance, we arrange delivery

Everything is customized according to customer's requirement.

We design, quantity, quality and packing according to customer's requirement.

We will try our best to meet the needs of our customers. Welcome to visit and cooperate with us.




Factory direct sale

What you see is what you get

The customer requirements

About how to order

1. Online negotiation, QQ497548359.

2. Fixed telephone: 0579-85290227

3. Mobile phone: 13777910228.

Address: store 7263, 3rd floor, block C, international trade city.