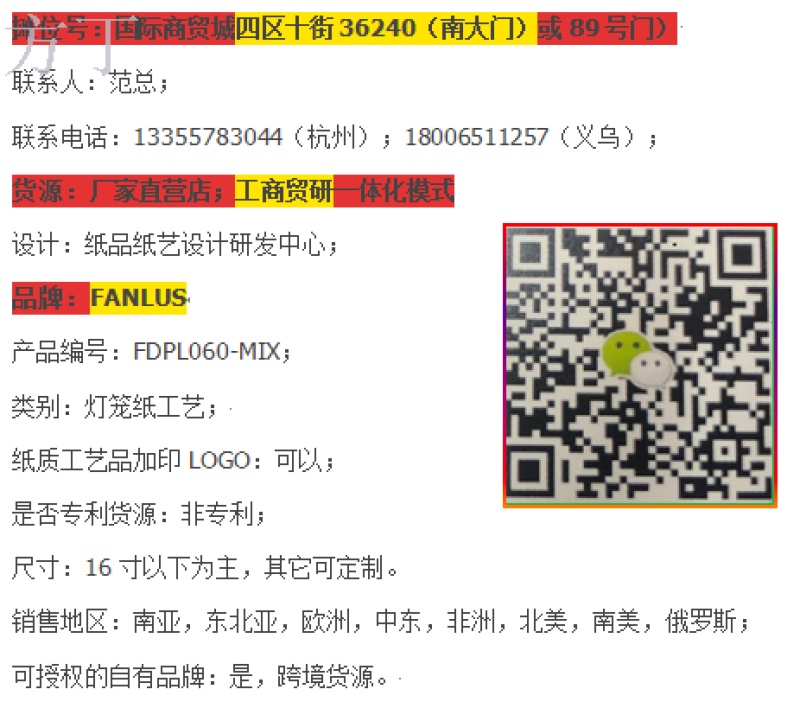 Company Profile:Hangzhou Fangding, head office is located in Hangzhou, Zhejiang province, under the branch located in Yiwu small commodity distribution center, China Yiwu International small commodity City. Main festival paper jewelry hand lantern, paper lantern, Christmas tree, wedding candles, ghost festival flowers and other categories, thousands of specifications, the products sell well in the domestic market, and can be designed according to customer demand. Relying on yiwu's perfect national consigned, air freight, port transportation, combined transportation and communication network to ensure good logistics services, over the years by Hong Kong, Taiwan, Malaysia, Europe, the United States and other countries and regions customers widely recognized. Adhering to the business philosophy of \"customer first, quality and efficiency in one\", the company has built an integrated platform of supply, marketing, research and design to provide high-quality and reliable services for our customers.
[Notes] :
1. The color can be determined by contacting the customer service, or by referring to the color card, leaving clear comments on the style and color.
2. Some products may have slight color difference due to the display, please forgive me.
3, avoid direct sunlight for a long time, long time direct sunlight will cause the paper color and drum, reduce the product aesthetics.
5. The product package is attached with paper clips, which can be used for multi-color matching according to the scene.
4. For special specifications, please contact the customer service. If the customer service is not near the computer or is not clear about it, please call 180-0651-1257 for your answers at any time.
产   品   展   in
细   节   图   slice
产   品   包   loading
We also sell the following sets of fans
Pink set of fan
Santa suit
Mei red suit
Red suit
Blue suit
1. Is the quality of your products guaranteed?
A: Quality is our survival, we have confidence in the quality of products, if there is any quality problems can be returned.
2. I would like to know the freight.
Answer: the freight is the actual cost generated according to the mode of freight selected by the customer. Under normal circumstances, the freight is delivered by express (express is delivered according to the actual goodsIf the customer has special freight requirements, we will try to meet them. Please rest assured that the company will not charge the customer more freight. In case of overcharging, it will be returned to you. You can refer to our company dynamics
I want to order some products. Do you have a price list? Could you please send it to me?
A: All prices are on the list. You can check them or consult our customer service.
4. Are all the pictures on your website in stock?
A: Basically, because we have a large number of wholesale customers, occasionally there will be a temporary shortage of individual products. In case of shortage, customer service will inform you to replace the goods in time. If the customer does not agree with the replacement, the company will replenish the goods for you in time or refund the excess payment to you.
5. Are your goods consistent with the pictures?
Answer: the picture and the picture of the goods are consistent, the picture has been reduced processing, not too clear, the goods are more beautiful.
6. Are your wholesale prices all over the website?
A: Yes, the price on the website is the wholesale price. You can apply for membership. Members can enjoy the membership discount based on the accumulated amount and the number of orders.
7. How much do you sell? Directly on the Internet?
A: It can be taken online or by telephone at 18006511257
8. I have placed an order. When will it be delivered?
A: Orders placed and paid before 16:00 on the same day can be normally sent out (except for stock shortage).
9. The freight was not normal when I placed the order.
Answer: Generally, the freight is generated automatically according to the weight of your goods and the place where you receive the goods, so there is no problem with the freight in general. In case of abnormal freight, you can contact the customer service to re-calculate your freight.Customer service will modify the order amount based on the actual weight of the goods you purchased and the freight calculated by the required shipping method
Sales Hotline:18006511257