Technical parameters:
Output power: 9v 12A 1200W Voltage: 220V
Air injection volume: 22\MIN size: 22*12 * 21CM
Container Capacity: 260ML water temperature adjustment button: 0-10 degrees, 10-20 degrees, 20-30 degrees three sections
Tips:
Please use pure water or mineral water for nano sprayer. Never use tap water. There is scale in tap water. Frequent use will block the mist outlet of sprayer.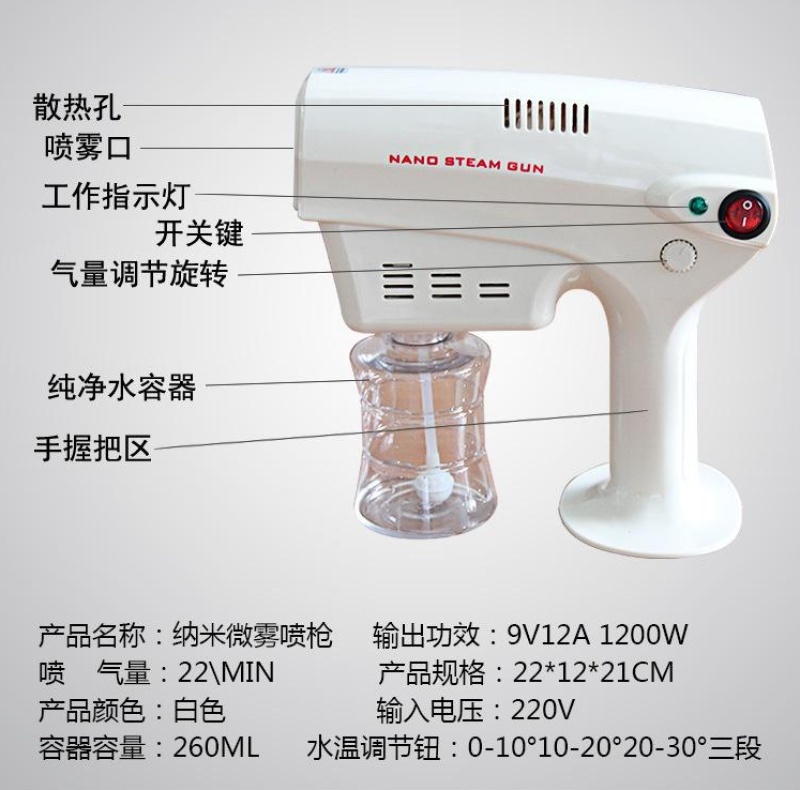 Car air conditioning atomization disinfection gun Atomizing desinfection
Exterior color: white
Power: 1200W
Voltage: ac220V
Smoke exhaust volume: 22ml/minute
Reservoir fluid capacity: 260 ml
Preheating Time: 3 fen zhong
Size: 24*23*9.5cm, net weight: 1.3kg
Area: 100m2
Control mode: Switch automatic control
Atomization sterilizer, small and portable, easy to operate
The price is beautiful and the quality is stable. Welcome to consult
It is suitable for all places such as cars, homes, living rooms, offices, bars, KTV, cinemas, government, school classrooms, gyms, stadiums, shopping malls and supermarkets. It is very effective in sterilization and poisoning.
Atomizing desinfection fog Machine nano-gun
Rated voltage: 220-240v,50HZ
Power :1200W (with blue led)
net weight: 1.3KG